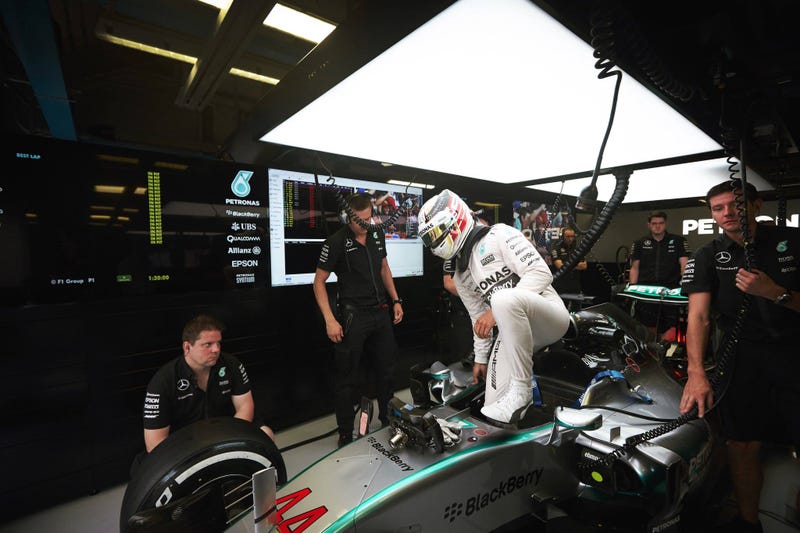 Yesterday's Italian GP, held at beautiful top speed temple Monza, gained momentum about 7 laps before the checkered flag. Nico Rosberg was catching up on Vettel's Ferrari, promising a Germanic fight for second place, the two Williams in 5th and 4th were getting within DRS distance, and Lewis Hamilton was prompted to extend his gap. This last development would keep the paddock busy three hours after the ceremony was done. Here is why.
What happened on track
Lewis Hamilton kept his stellar form. His driving is getting closer and closer to being impenetrable. In 2014 Mercedes style, he quickly got out of the DRS window and ensured a nice, comfortable gap to Seb Vettel before looking after the material and managing most of the race. It's all going according to plan until lap 49. Via team radio, Lewis' race engineer requests him to pick up the pace. What's interesting here is the explanation given to the driver: there is none. They literally say "We'll tell you later". All Lewis knows is that his team needs more time. And he, out of the blue, goes one second faster, proving people like me that Mercedes is pacing themselves quite a lot.
Anyhow, from the TV broadcast, the reason seems obvious: just before the suspicious radio message came in, Hamilton locks up going into turn 1. Not wanting to risk a tire blowing up due to damage to Pirelli's front right, a second pitstop right before the end would clear Mercedes for victory. As it happens, the gap is at 22 seconds while a stop takes 24, so a few seconds gained on track seal the deal. And yet, Lewis doesn't come in after a few fast laps but pushes all the way to the end, where he calls the sudden incentive to go all quick "not cool". Strange, but not enough to warrant action – maybe the damage to the tire wasn't as drastic as thought and plans changed. Unless the gap was not needed for a tire change.
What happened after
Toto Wolff, after multiple questions by German TV, came out with the truth. "Maybe the gap was needed for something else", he said with a smile when the question was asked in conjunction with a looming penalty of some sort. It could have been exceeding track limits, it could have been a problem with the upgraded engine in which it burnt too much fuel. Shortly after, we knew: it was the tire pressure.
Think back to the race in Spa, where Sebastian Vettel lost at least a fourth place finish when his tire exploded after Radillion. In the effort to avoid any more of the worst possible PR, Pirelli together with the FIA worked out a save tire window consisting of camber and tire pressure. The top 4 cars were measured right before the race started, meaning both Ferrari and Mercedes vehicles. Vettel and Räikkönen were in the clear, but Hamilton and Rosberg were under the minimum by 0.3 and 1 psi respectively, on one tire only. Variances like that are hard to explain if we're talking about other measurements taken on a F1 car, be it weight, width or thickness of the floor - a limit is a limit.
Why no penalty is fair enough
Strange as it may seem at first, there are three reasons on hand why Mercedes rightfully did not receive a penalty. Number one: according to Paddy Lowe, chief technical director at MercedesGP, a Pirelli engineer was on hand and gave his blessings on the set up the team chose. This overrides a recommendation handed out before as the engineer controls whether everything is alright and would be obliged to point out varying, non-ok settings due to the safety concerns they cause – after all, driver safety is the official reason for the tire restrictions.
Then, assuming there would have been an active try to go around Pirelli guidelines, the FIA and Pirelli would have known before the start. For some reason, the team was notified 10 laps before the race ended. Why would they be quiet about a real safety issue? With the background of recent deaths in open wheel motorsport and Monza also being the fastest track on the calendar, having the notification about tire pressures arrive at the affected team on lap 43 of 53 is fishy to say the least.
The most alarming and third reason is this: there is no specified method of measuring required. Imagine that, judging over a win came down to data gained by measurements that aren't necessarily equal nor really defined. Not even the recording of the data itself is determined in the rules to an extent in which one could call it bulletproof. As a result, the Ferrari's were checked while the tire blankets were turned on and providing heat, the Mercedes' during inspection were not and/or turned off just before. It's what the FIA officially stated and shows why hurried rule drafting is the worst. A judgment to the disadvantage of Mercedes with such an apparent mishandling of acquiring evidence would have seemed like nothing short of despotism.
---
Picture credit: Incredible Things (reddit, reddit)
Follow me on twitter and tumblr.