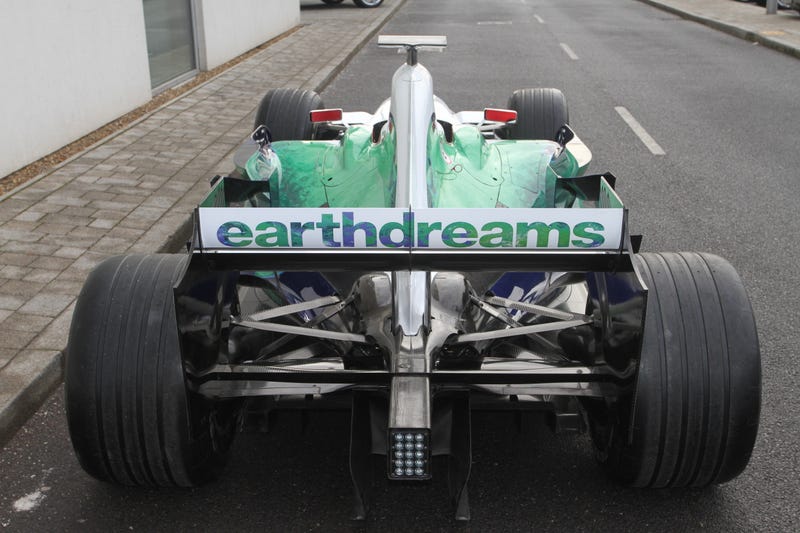 A British F1 fan and weekend racer recently bought Rubens Barrichello's 2007 Honda RA107 at auction for £37,000. The Honda F1 chassis was bought with many of the unobtanium parts included, but he is now taking to the internet for help in fully restoring his new toy to near-hairsplitting performance.
In a plea for help to the commenters of F1Technical.net, who all will no doubt gladly respond, this gentleman from Somerset, England lays down the situation:
We have wanted a frisky single seater for some time, and we recently took the plunge and bought one.

Most people's first single seater will likely be a Pilbeam or Reynard or something similar, but we did something slightly mad, and bought an ex. works Honda F1 car from 2007. The RA107(ex. Barrichello) probably was the worst performing Honda F1 ever, but for us, it will be totally awesome.

The car was sold to us without engine and steering wheel, but apart from that, it is remarkably complete. The car had a simulator kit installed, and and it was probably destined to be an exibit in a bank foyer, or be a spoiled kid's toy. But we are going to return it to the track! If you are interested, a few pics can be found here: http://www.flickr.com/photos/fan6s/s…

The car raced in the Earthcar livery with race number 8, and did 12 out of 18 races in 2007 with RB driving. It clocked up over 8.000 racing km's on circuits all over the world. If you have/know of any photos of the car racing, or have any interesting facts, I'd obviously be very interested.
His plan is to use a 500 bhp Honda 3 liter H1V8 engine as a replacement, hopefully ramping up to a blasphemous 750 bhp once he and his girlfriend get a feel for the chassis.
The engine we have in mind is the 3.0 L H1V8, which is about the correct size and weight to replace the original 2.4 L Honda engine. Its also a very capable unit, which can be made to match the original engine's power output. We plan to start with a milder tune(500 rather than 750 BHP),at least until we are confident with the car. We'll have to make a frame to take the stress loading between the bulkhead and gearbox, as the H1V8 is not really designed to be used as the main stress member.

As for trans, the car still has its original X-trac, but we are probably having to replace it with pneumatic sequential we can have built into the existing carbon housing. Then we can keep the original suspension pick up points.

Looking deeper into the comments, you will even find supporters trying to figure out ways to improve the car in ways the might of Honda couldn't given the stringent F1 regulations.
I cannot wait to see this car pushed back onto the track, and hope more retired F1 cars follow its wake.

Unfortunately, chatter on the matter has grown quiet of late due to a lack of money, but the project is still churning as the owners keep their heads down.
Thanks for asking, but no really interesting new progress to report at the moment. We're still waiting to sell another race car so we can pay for further developments. The project is still very much alive, if a bit dormant at the moment. We want to do this right, so it will have to take the time it takes. I will come back with further updates in due cause.

Follow the story at F1Technical.net.