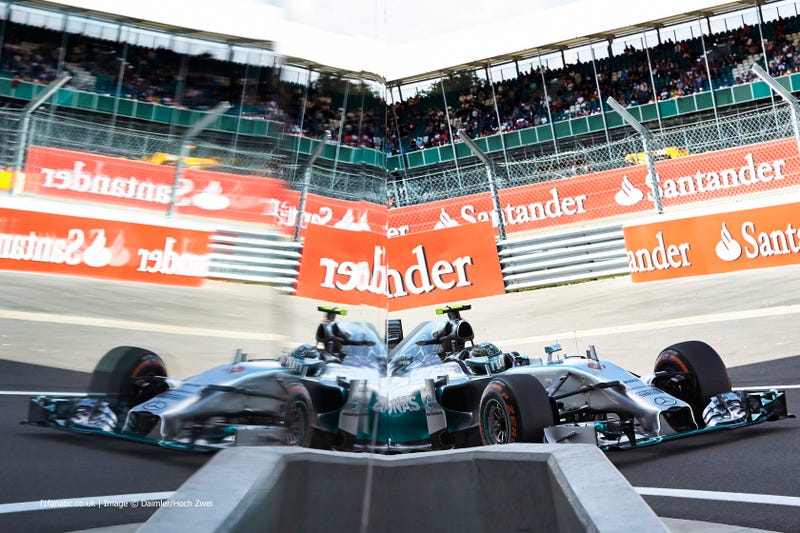 This is an open discussion, summary, and statistics listing following the 2014 British Grand Prix. Obvious spoilers below...
The race began with Lewis Hamilton on the back foot, starting 6th after calling off going on a second run in the third qualifying session, and Nico looking onwards to an almost guaranteed Silverstone victory starting from pole.
Felipe Massa's Williams was bogged on the start due to an under-cooled clutch, trailing the back of the field after the lights went out.
Coming on to the Brooklands straight, Kimi Raikkonen went wide. The Fin then pulled his Ferrari F14T back on to the track but snagged the rear on the edge of the track, causing his suspension to fail and slinging a uncontrollable Ferrari into traffic. Luckily disaster was averted (for the most part), and Kimi's Ferrari slung back into the armco barrier for impact.
But again, the Ferrari reentered the track, but this time strewn about as the shards of carbon and Maranello glory sprayed evenly across the asphalt. Felipe Massa was the unlucky driver here following the grid from his bad start. Massa quickly reacted to avoid the wheelless Ferrari chassis, but got caught up in all of the debris and slid the back of his Williams FW36 around.
Felipe was able to get his limping Williams back to the pits, but in the end it was terminal for Silverstone.
...and that was only the first lap.
After an hour of stoppage, the race restarted behind the safety car. Nico somehow managed a gap over 5 seconds on the restart after Lewis's more advanced W05 finally slid around the Jenson Button and Kevin Magnussen's McLarens.
Lewis Hamilton made catching Rosberg seem easy, almost too easy at first. Lewis reduced the 6 second gap to around 2 or 3 seconds by the first pit stop, but after Rosberg's pitstop, Nico started stealing back the fast laps from Lewis as the English driver waited to pit himself.
After Lewis finally pitted back onto the harder tires, he began reeling in Nico Rosberg and brought the gap down to less than 2 seconds. The race lead was about to be fought over.
But then Nico's gearbox gave up the ghost and had the German driver crawling over the grass to keep off track and out of the way of much faster traffic. Nico Rosberg then retired the W05, and Lewis stormed ahead.
And let's not forget about the fantastic Sebastian Vettel versus Fernando Alonso battle!
Oh, and Lewis finally got that gold trophy.
What great stories did you see unfold at Silverstone?
Drive of the Race | Technically F1| Qualifying | FP2 | FP1
---
2014 Formula 1 British Grand Prix
| | | | | |
| --- | --- | --- | --- | --- |
| Position | Constructor | Driver | Gap | Grid |
| 1. | Mercedes | Lewis Hamilton | - | 6 |
| 2. | Williams | Valtteri Bottas | +30.1 secs | 14 |
| 3. | Red Bull | Daniel Ricciardo | +46.4 secs | 8 |
| 4. | McLaren | Jenson Button | +47.3 secs | 3 |
| 5. | Red Bull | Sebastian Vettel | +53.8 secs | 2 |
| 6. | Ferrari | Fernando Alonso | +59.9 secs | 16 |
| 7. | McLaren | Kevin Magnussen | +62.5 secs | 5 |
| 8. | Force India | Nico Hulkenberg | +88.6 secs | 4 |
| 9. | Toro Rosso | Daniil Kvyat | +89.3 secs | 9 |
| 10. | Toro Rosso | Jean-Eric Vergne | +1 Lap | 10 |
| 11. | Force India | Sergio Perez | +1 Lap | 7 |
| 12. | Lotus | Romain Grosjean | +1 Lap | 11 |
| 13. | Sauber | Adrian Sutil | +1 Lap | 13 |
| 14. | Marussia | Jules Bianchi | +1 Lap | 12 |
| 15. | Caterham | Kamui Kobayashi | +2 Laps | 22 |
| 16. | Marussia | Max Chilton | +2 Laps | 17 |
| 17. | Lotus | Pastor Maldonado | +3 Laps | 20 |
| 18. | Mercedes | Nico Rosberg | Retired Lap 29 | 1 |
| 19. | Caterham | Marcus Ericsson | Retired Lap 12 | 21 |
| 20. | Sauber | Esteban Gutierrez | Retired Lap 10 | 19 |
| 21. | Williams | Felipe Massa | Retired Lap 1 | 15 |
| 22. | Ferrari | Kimi Raikkonen | Retired Lap 1 | 18 |
---
Drivers' Championship Standings
| | | | | |
| --- | --- | --- | --- | --- |
| Position | Driver | Nationality | Team | Points |
| 1 | Nico Rosberg | German | Mercedes | 165 |
| 2 | Lewis Hamilton | British | Mercedes | 161 |
| 3 | Daniel Ricciardo | Australian | Red Bull | 98 |
| 4 | Fernando Alonso | Spanish | Ferrari | 87 |
| 5 | Valtteri Bottas | Finnish | Williams | 73 |
| 6 | Sebastian Vettel | German | Red Bull | 70 |
| 7 | Nico Hulkenberg | German | Force India | 63 |
| 8 | Jenson Button | British | McLaren | 55 |
| 9 | Kevin Magnussen | Danish | McLaren | 35 |
| 10 | Felipe Massa | Brazilian | Williams | 30 |
| 11 | Sergio Perez | Mexican | Force India | 28 |
| 12 | Kimi Räikkönen | Finnish | Ferrari | 19 |
| 13 | Jean-Eric Vergne | French | Toro Rosso | 9 |
| 14 | Romain Grosjean | French | Lotus | 8 |
| 15 | Daniil Kvyat | Russian | Toro Rosso | 6 |
| 16 | Jules Bianchi | French | Marussia | 2 |
| 17 | Adrian Sutil | German | Sauber | 0 |
| 18 | Marcus Ericsson | Swedish | Caterham | 0 |
| 19 | Pastor Maldonado | Venezuelan | Lotus | 0 |
| 20 | Esteban Gutierrez | Mexican | Sauber | 0 |
| 21 | Max Chilton | British | Marussia | 0 |
| 22 | Kamui Kobayashi | Japanese | Caterham | 0 |
---
Constructors' Championship Standings
| | | |
| --- | --- | --- |
| Position | Constructor | Points |
| 1. | Mercedes | 326 |
| 2. | Red Bull | 168 |
| 3. | Ferrari | 106 |
| 4. | Williams | 103 |
| 5. | Force India | 91 |
| 6. | McLaren | 90 |
| 7. | Toro Rosso | 15 |
| 8. | Lotus | 8 |
| 9. | Marussia | 2 |
| 10. | Sauber | 0 |
| 11. | Caterham | 0 |
---
Formula 1 | images via F1 Fanatic