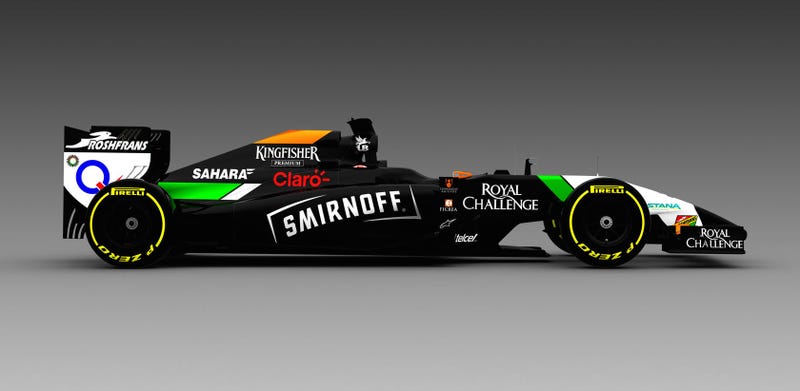 Alcoholic adversing in Formula 1 has always been a bit of a gray area due to the whole drinking-and-driving scenario. Nonetheless, Force India announced today an additional sponsorship deal with Smirnoff, the alcoholic drinks brand.
Responsible drinking will lie at the heart of the partnership. Smirnoff will use its position as an official partner of the Sahara Force India Formula One Team to deliver a powerful anti-drink drive message.
okay.
The partnership will see Smirnoff branding featured on the VJM07s of Sahara Force India drivers from next weekend's Spanish Grand Prix in Barcelona. Logos will appear on the rear wing and top of the chassis, with branding on the sidepods at key races. Drivers' suits, helmets and team clothing will also carry the famous Smirnoff eyebrow logo.
Perhaps the change in sidepod livery earlier was a result of this new partnership.
Listed 2014 Alcoholic Sponsors
Force India - Smirnoff
McLaren - Johnny Walker
Williams - Martini (Title Sponsor)
Red Bull - Singha Beer
Sauber - Jose Cuervo