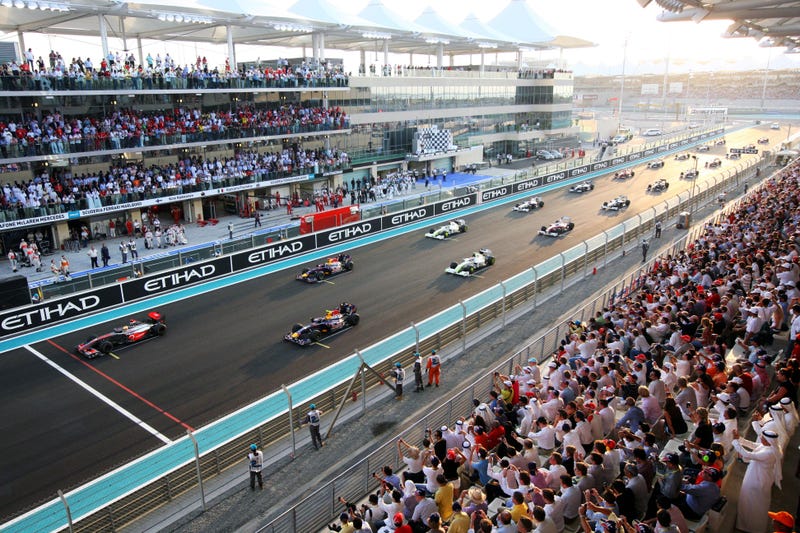 Just before the Austin GP, the remaining small teams Force India, Sauber and Lotus discussed the option of boycotting the race. While I like the idea, the US is the worst place for it. Remember Indy 2005 and how it cracked the fans' relation to Formula 1 forever? There's no need to do the same thing just after Austin has established itself as the new, proper home for Hamilton & Co.
But there's another perfect place to try the French version of productivity, strike: Abu Dhabi and their stupid double points finale, a race that reportedly had paid twice the fee for (get it, because it's twice the points! Genius Bernie strikes again!) the open wheel spectacle. Imagine them sheikhs paying north of 50 Million Dollars for a very quiet grid of 12 cars. They'd be mad, and like any dissatisfied customer they would yell at the cashier, who then would call the manager to be yelled at too. That's when Bernie has some real pressure to press for changes, and that's when the big teams also have to finally give up some of their privileges.
Actually, Mr. E already announced that he would be willing to give up some of his income and transfer it to the smaller teams if the big teams would chip in too. The problem with all of it is that it's all talking, talk from a man who long has been a defender of pure customer cars, and he changes his opinion from weekend to weekend. The most recent statement is basically "Screw it, they're at fault anyways" and "Crisis? There is no crisis.". The three teams need to set a sign, a sign that hurts and forces their way into more money.
Why is Abu Dhabi so perfect for a possible boycott? The final, championship deciding race with 12 cars is a strong negative image that's sent around the globe. Also, Bernie can't throw the teams out of the championship for next years as he doesn't have a real solution to fill up the grid so fast, and it might not matter for Lotus or Force India whether they are not allowed to the grid in Melbourne or if they have to close down their shops come Silverstone.
But wait I hear you say, there's the three car team solution! Well, it doesn't work, in sportive and economic ways. Imagine three Mercedes cars on the grid. Even a rookie/paydriver with decent talent could drive it to a safe third place, and Mercedes' DTM ace/F1 simulator driver Pascal Wehrlein can be considered even better. Is that good for the sport? And how will a third car be accounted for? Let's say only Red Bull and Ferrari run one – will they get points for the constructor's championship? What about the driver's championship? Plus how are the other teams charging for top honors going to react to a third car for select rivals – it could be a tactical advantage after all und used to "block" some rivals on track.
And financially it doesn't make sense either. It's safe to assume that a third car would cost about 35 Million Euros to run per year, maybe more. It's already hard to find sponsors in F1 with some big names leaving (Vodafone/Verizon) or opting for series sponsoring (Johnny Walker), so where does Bernie think the money for a third car would come from? And should Sauber, Lotus and Force India go bust, then Ferrari is left with one team to run their engine, a minus of about 40 Million Euros in revenue per year compared to outfitting two other teams. Renault meanwhile went from four teams to two, also losing 40 Million Euros in income. That's why Ferrari and Red Bull want additional money from Bernie to cover their costs, money that could be used to not make it necessary to run three cars in the first place.
Are there other solutions being thrown around? CVC, the owners of F1, seem to prefer Ferrari and Red Bull filling up the field and would help the smaller teams out in return. Bernie and Gerard Lopez of Lotus F1 also mentioned some kind of "second league" where the non-works teams would compete under a cost cap. Even worse, there have been ideas of filling up the field with GP2 cars.
All of that, plus dubious crowdfunding from Caterham that frankly should not have succeeded, screams for strike.