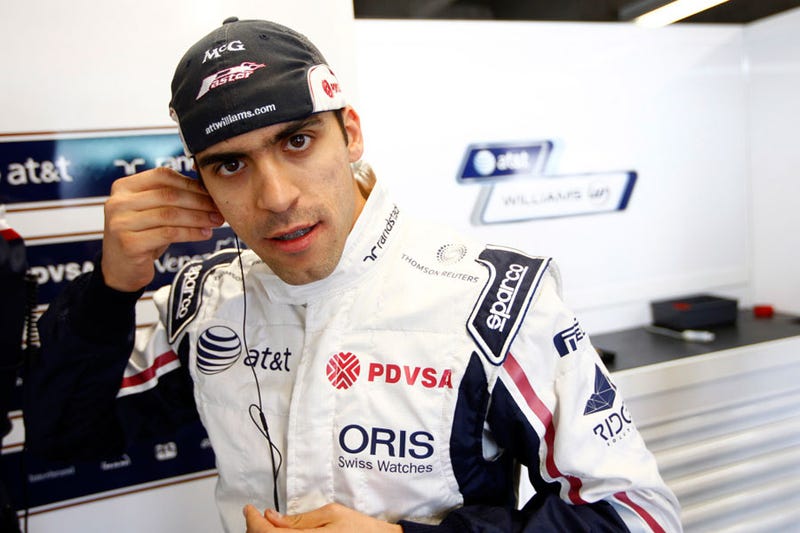 "Pay driver" has become a dirty set of words amongst a a certain group of racing enthusiasts. The term is becoming more and more prevalent along the paddock these days. Some might call this group of enthusiasts "purists," while some others might call them "assholes." Some purists (we'll say for simplicity's sake) believe that if a driver "pays" to get their racing seat - they're automatically worthless behind the wheel. Pastor Maldonado may not be the quintessential stereotype for this sort of estranged argument, but he doesn't do himself many favors to really stand out against it. Hating on Pastor is almost too easy.
He is funded by dirty, dirty oil money. Pastor is arguably in one of the most secure driving seats on the F1 grid, no matter what car he's in. What differentiates a pay driver from the rest of the guys in flame-retardant suits is that they bring major money with them to the negotiating table around contract time. They aren't looking for a pay-out. They're looking for racing teams looking for one. Pay drivers are backed by either personal finances, or in Maldonado's case - a personal sponsor. The money goes in to whatever team that driver gets a seat with. This leads many to believe that because a driver didn't earn their seat by virtue of talent alone, they therefor have none of it.
Amongst his group of pay-to-drive pals (there are several in F1, and even more in GP2,) Pastor's backing is a bit tricky to understand. Originally his funding was portrayed as coming through the Venezuelan government as part of a bid to promote tourism and morale in his impoverished home country. Venezuela, the world's fifth leading oil exporter, stamped the logo of the state-owned oil company PDVSA (Petroleos de Venezuela S.A. - owner of U.S. based oil refinery company Citgo) on Maldonado's back and sent him off to the races.
His sponsorship money comes from the tax dollars of a country with recurring food shortages. It has been reported that former Venezuelan president Hugo Chavez had a big interest in F1 and was a major influence in Maldonado's funding and career. When Chavez passed away in 2013 many people speculated that Maldonado's cash stream could dry up. It didn't. Later that same year Venezuela cut all motorsports funding upon the discovery of a forgery scandal in which Alejandra Benitez, the Venezuelan minister of sports, found that her falsified signature had moved over 65 million in sporting-fund dollars to places in which it did not belong - tax dollars sourced from the limited prosperity and people of Venezuela. A group of people who have regularly and continue to experience food shortages and other severe hardships in their home country.
Maldonado was never implicated in that scandal, but with his financial backer (his country, mind you) cutting off all ties to international motorsports, surely then his F1 funding river was set to run dry. Nope!
Pastor went to Lotus and PDVSA was all over the Enstone two-tusked specials for 2014. So, what gives? If the government is getting ripped off through sponsorship deals, why continue paying out?
PDVSA has not been immune to financial troubles, itself. Yet, the brand still sponsors quite a few pro sporting endeavors. They are said to be owned and operated by the Venezuelan government, but they seemingly act independently in some cases. They produce oil - and the last time I checked - the demand made it seem like this wasn't a commodity that took a lot of marketing to move. I must be missing something on that front. What personal ties Maldonado has, if any, to PDVSA are unclear. What is clear is that PDVSA won't be cutting their ties from professional athletes or F1 any time soon, their government be damned (even though they ARE their government.)