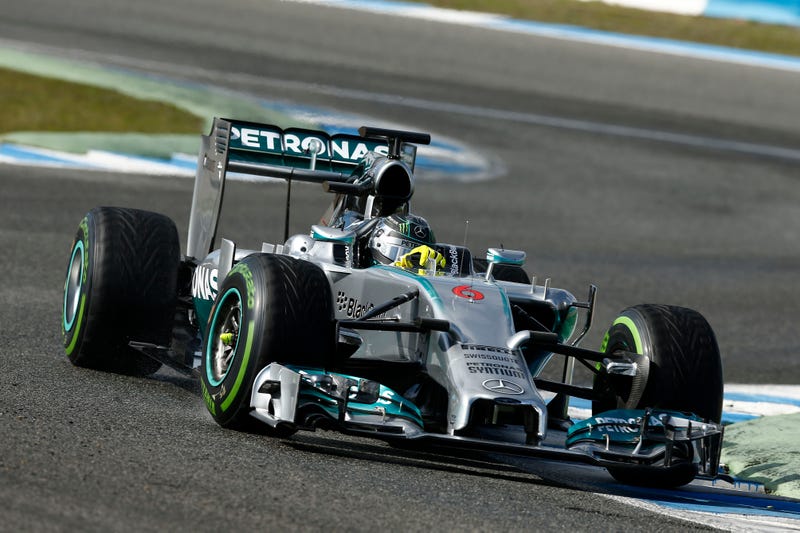 Believe it or not, the 2014 Formula One season is already halfway over. With ten out of nineteen rounds completed, we've already seen plenty of action on-track as well as off-track. Battles for points, positions, and rule changes have made this season different from any we've seen in the past few years, and despite the controversy surrounding the new turbo V6 power units, we've seen some undeniably great racing.
At this point, Nico Rosberg is leading the championship, but the battle between him and his rival Mercedes teammate Lewis Hamilton is far from over as they are still relatively close in the points, and have exchanged the lead in the championship multiple times so far.
This season has also been one of surprises; Daniel Ricciardo has eclipsed Sebastian Vettel as the dominant driver for Red Bull Racing, finishing above the four-time World Champion eight times of the ten races, including taking home a win at the Canadian Grand Prix last month. The "tense battle" between Ferrari teammates Fernando Alonso and Kimi Raikkonen has not lived up to the pre-season hype as Raikkonen has struggled immensely to get any performance out of the Ferrari chassis, and has finished behind Alonso in every race so far. Williams has recovered from their long period of failure, securing multiple podiums and a pole position thanks to brilliant driving from the young Valterri Bottas and veteran driver Felipe Massa, and despite Massa's seemingly awful luck at times, Williams stands third in the Constructors' Championship, above notable teams like Scuderia Ferrari and McLaren-Mercedes.
Another surprise witnessed this season was the points finish for the Marussia F1 team at Monaco after Julies Bianchi managed to bring the Ferrari powered back-marker to the checkered flag in ninth position. While this result may seem small, it actually positions them in the current Constructors' Championship in ninth, which is better than any season in the team's history since being renamed.
Also worth mentioning are some of the crazier things we've seen this year. After complaints of the lack of noise the newer power units are emitting, Mercedes tried out a radical flared exhaust solution to make the cars louder at the test session in Spain back in May. Ultimately, there was no noticeable change, so the idea was scrapped. We've also seen some spectacular crashes and accidents, including three cars going airborne this season, at Bahrain, Austria, and most recently, Germany. Also worth mentioning are the hard hits Perez and Massa had at Canada, the opening lap crash Raikkonen suffered in Britain, and Hamilton's qualifying shunt in Germany. Remarkably, (and thankfully), all of the drivers were able to walk away from these accidents, thanks to the great lengths of safety the teams go to when building their race cars.
Overall, its definitely been a great season so far. It's had its fair share of controversy and craziness (as Formula One always does), but it has never failed to deliver the element of excitement that us fans crave when tuning in (typically) during the early morning hours.
Now, onto Hungary!
Photo Credit: Nico Rosberg, F1 Fanatic, Fox Sports, motorsport.com