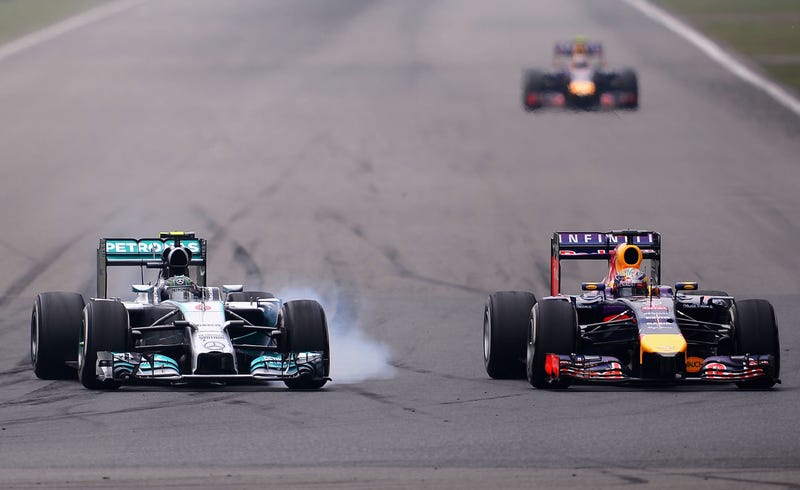 A few weeks ago the strategic group consisting of Red Bull, Mercedes, Ferrari, McLaren, Williams and Lotus voted against a binding budget cap. It rightfully infuriated the teams, although Mercedes for example tried to relative its veto as it "would have not changed a thing". The majority simply was against it. Even Lotus, a team that had to cut 100 jobs and rely on Crashtor Maldonados PDVSA Oil money, couldn't be bothered. Maybe they are hoping to finally get the investors' money and be able to challenge the big teams also in terms of resources.
The decision left the big teams with a problem. The excluded teams Sauber, Force India, Marussia and Caterham (Torro Rosso is saying whatever RB says, so I don't include them) were already having negative feelings against the new strategic group and its lack of empathy for the smaller teams situation. And pretty much every small team is struggling to survive in the business, even though they know how to build race cars that sometimes manage to be a pain for the bigger outfits (Sauber '12 and '13 anyone?).
So now that the strategic group smashed the budget cap, they had to find a way to ease the other team's worries. The result: a 3 year plan to a more economical F1, based on a revised rule book that makes for faster, cheaper and more competitive cars. In theory at least.
Step 1: No tire warmers and brake ducts, simpler front wings in 2015.
The first changes will come as soon as 2015. A ban of tire warmers was actually already planned independently and before the budget discussion, and Pirelli already tried out prototype tires during Bahrain testing to adapt and avoid a tire fiasco. It might make warm up laps more important and race starts or first laps after a pitstop more challenging (read: interesting), but the cost saving effect will be very small to non-existent. All teams already own the devices, and there is no real tire warmer development going on and therefore no development costs to be saved. Also teams warned about losing a possible spot for advertising, even though I have never seen ads on them in F1.Knowing that it is both nothing new and nothing drastic, another key area tackled are the front wings. See, they got more and more complex over the years. Back in 2009 the FIA wanted to clean up the bodywork of the cars and for the first year, it more or less worked out. But we are now pretty much at the 2007 state of aerodynamics in terms of complexity, sans the cons growing out of the nose (well, there is the Mercedes camera solution). And developing these front wings costs a lot of money. It takes many people to design them, quite some computing and wind tunnel time to validate them and a lot of effort to construct them in carbon fiber. Now multiply that by 19 as most of the races require a special wing or at least a variation plus spares. And then there is the fact that the front wing is a key part in directing aero towards the rest of the car – every bit lost here continuous to be a problem at the rear.
It all results in monstrous, very split wings that are consist of many many pieces. Too many.
Simplifying the front wings by stricter rules would lead to a) less downforce overall b) reduced development costs and c) more effective advertising space in a well seen area. Less spending, more income. That's efficient.
Also efficient would be to sort out two problems in one go: not enough visual spectacle to make up for the quiet sound and expensive brake ducts. So why not simply downgrade them to make glowing rotors visible again and end their costly aerodynamic importance? Brilliant.
Other points from the three-year-plan are a simpler fuel cell/pump system, no connected front and rear axles any more (FRIC-suspension), stricter gearbox rules, unified front and rear crash structures. And finally, good news for the tired mechanics: paddock closing hours will be extended by two hours on Thursday and Friday.
Step 2: Simplifying the moving gear
The drivetrain itself will be changed for the 2016 season. Active differentials, drive shafts and drive wheels are becoming a unit part so that manufacturing and construction costs go down even more.
The same applies to the steering racks, so that all teams will be able to outsource the manufacturing to a supplier which should be cheaper than all 11 (or 12 by that time?) teams letting the CNC machines do their thing.
Step 3: Let it spark again – active suspension comes back
Senna switched to Williams because he wanted to take advantage of the cars wonderful active suspension. The technology could make a comeback after it was banned after 1993, but this time under significantly different circumstances.
Active suspension is said to become a unified technology as well. Economically the outcome makes a lot of sense: the amount of work for each team to construct the suspension decreases thanks to the lack of bespoke dampers and other parts. Also configuring the setup could be a purely digital procedure, which means less work for mechanics and therefore less mechanics to travel to the races (60 is the maximum as of now).
And it doesn't stop here. Active Suspension also means a revival of flying sparks, more downforce thanks to near perfect car alignment through corners and closer competition as every team will be able to use the benefits the suspension promises without increased spending.
Is it a sure thing?
As sure as anything in F1 – it is not sure until it's done. Sutil would be driving a Force India if every contract would be water proof, but he now is fighting to keep ahead of Marussia and Caterham in his Sauber instead of fighting for a podium.
The pessimist in me says that the whole plan could be a distraction to stop the smaller teams from rebellion and from making drastic steps such as a lawsuit at the European court. There is no doubt in the distortion of competition in current F1, but an egoistic no to reasonable budget caps or rule changes could be the impetus for legal action.
On the other hand it very well may be the best way for the big forces to keep a competitive resource advantage and to block a budget cap.
Will the sport suffer?
Yes and no. Yes in the sense that it is one step closer to "GP1", a faster GP2 in which cars are the same and the fascinating construction of race cars loses a bit of importance. No because the visual spectacle increases and the field should become more competitive with fewer performance gaps. Which would equal in beautiful and close racing. Who can be against that?
---
Picture credit (in order):
1) reddit r/F1porn, author unknown. 2= Formula1.wordpress; Sutton Images 3) WR12 4) Johnkevans 5) F1fanatic 6) reddit r/F1porn, author unknown