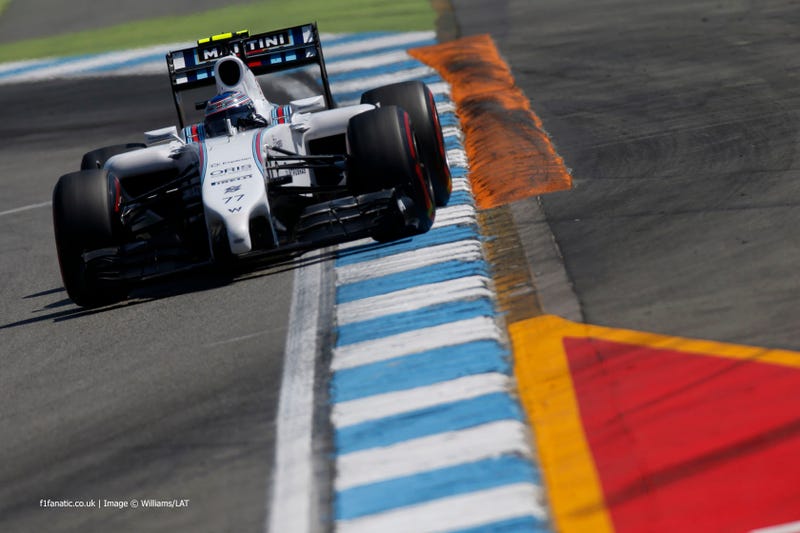 This is an open discussion, summary, and statistics listing following the 2014 German Grand Prix. Obvious spoilers below...
Another turn 1 crash involving Felipe Massa kicked off the start to a race filled with fantastic mid-field battles. Massa turned into Kevin Magnussen, who was already at the apex, clipping the McLaren and sending Massa's Williams FW36 upside down before toppling over once again. Magnussen and bystander Ricciardo's cars were relatively unharmed, but Massa had to walk away before the first lap was complete again.
The race lead was unchallenged and Nico Rosberg cruised to an easy victory at his home Grand Prix; Hamilton occasionally gave moments of tension from choosing a differing tire strategy after starting P20 from a bad qualifying session and a gearbox change, but was eventually cut short after clipping Jenson Button's McLaren and damaging the W05's front wing, forcing him to make an additional pit stop.
And we also saw a near repeat battle between Red Bull and Ferrari, this time however with Ricciardo blocking Fernando's faster pace.
Hamilton then began to make up incredible ground on Valtteri Bottas, closing in at over a second a lap. The Brit then had trouble getting round the Williams, to the point his tires were shot and had to settle for 3rd on the podium.
What great stories did you see unfold at Hockenheim?
Drive of the Race | Qualifying | Free Practice 2 | Technically F1
---
2014 Formula 1 German Grand Prix
| | | | | |
| --- | --- | --- | --- | --- |
| Position | Constructor | Driver | Time/Gap | Grid |
| 1. | Mercedes | Nico Rosberg | 1:33.42.914 | 1 |
| 2. | Williams | Valtteri Bottas | +20.7 secs | 2 |
| 3. | Mercedes | Lewis Hamilton | +22.5 secs | 20 |
| 4. | Red Bull | Sebastian Vettel | +44.0 secs | 6 |
| 5. | Ferrari | Fernando Alonso | +52.4 secs | 7 |
| 6. | Red Bull | Daniel Ricciardo | +52.5 secs | 5 |
| 7. | Force India | Nico Hulkenberg | +64.1 secs | 9 |
| 8. | McLaren | Jenson Button | +84.7 secs | 11 |
| 9. | McLaren | Kevin Magnussen | +1 Lap | 4 |
| 10. | Force India | Sergio Perez | +1 Lap | 10 |
| 11. | Ferrari | Kimi Raikkonen | +1 Lap | 12 |
| 12. | Lotus | Pastor Maldonado | +1 Lap | 18 |
| 13. | Toro Rosso | Jean-Eric Vergne | +1 Lap | 13 |
| 14. | Sauber | Esteban Gutierrez | +1 Lap | 16 |
| 15. | Marussia | Jules Bianchi | +1 Lap | 17 |
| 16. | Caterham | Kamui Kobayashi | +2 Laps | 19 |
| 17. | Marussia | Max Chilton | +2 Laps | 21 |
| 18. | Caterham | Marcus Ericsson | +2 Laps | 22 |
| 19. | Sauber | Adrian Sutil | +20 Laps | 15 |
| 20. | Toro Rosso | Daniil Kvyat | +23 Laps | 8 |
| 21. | Lotus | Romain Grosjean | +41 Laps | 14 |
| 22. | Williams | Felipe Massa | +67 Laps | 3 |
---
Drivers' Championship Standings
| | | | | |
| --- | --- | --- | --- | --- |
| Position | Driver | Nationality | Team | Points |
| 1. | Nico Rosberg | German | Mercedes | 190 |
| 2. | Lewis Hamilton | British | Mercedes | 176 |
| 3. | Daniel Ricciardo | Australian | Red Bull | 106 |
| 4. | Fernando Alonso | Spanish | Ferrari | 97 |
| 5. | Valtteri Bottas | Finnish | Williams | 91 |
| 6. | Sebastian Vettel | German | Red Bull | 82 |
| 7. | Nico Hulkenberg | German | Force India | 69 |
| 8. | Jenson Button | British | McLaren | 59 |
| 9. | Kevin Magnussen | Danish | McLaren | 37 |
| 10. | Felipe Massa | Brazilian | Williams | 30 |
| 11. | Sergio Perez | Mexican | Force India | 29 |
| 12. | Kimi Raikkonen | Finnish | Ferrari | 19 |
| 13. | Jean-Eric Vergne | French | Toro Rosso | 9 |
| 14. | Romain Grosjean | French | Lotus | 8 |
| 15. | Daniil Kvyat | Russian | Toro Rosso | 6 |
| 16. | Jules Bianchi | French | Marussia | 2 |
| 17. | Adrian Sutil | German | Sauber | 0 |
| 18. | Marcus Ericcson | Swedish | Caterham | 0 |
| 19. | Pastor Maldonado | Venezuelan | Lotus | 0 |
| 20. | Esteban Gutierrez | Mexican | Sauber | 0 |
| 21. | Max Chilton | British | Marussia | 0 |
| 22. | Kamui Kobayashi | Japanese | Caterham | 0 |
---
Constructors' Championship
| | | |
| --- | --- | --- |
| Position | Constructor | Points |
| 1. | Mercedes | 366 |
| 2. | Red Bull | 188 |
| 3. | Williams | 121 |
| 4. | Ferrari | 116 |
| 5. | Force India | 98 |
| 6. | McLaren | 96 |
| 7. | Toro Rosso | 15 |
| 8. | Lotus | 8 |
| 9. | Marussia | 2 |
| 10. | Sauber | 0 |
| 11. | Caterham | 0 |
---
Formula 1 | images via F1 Fanatic, @BBCF1