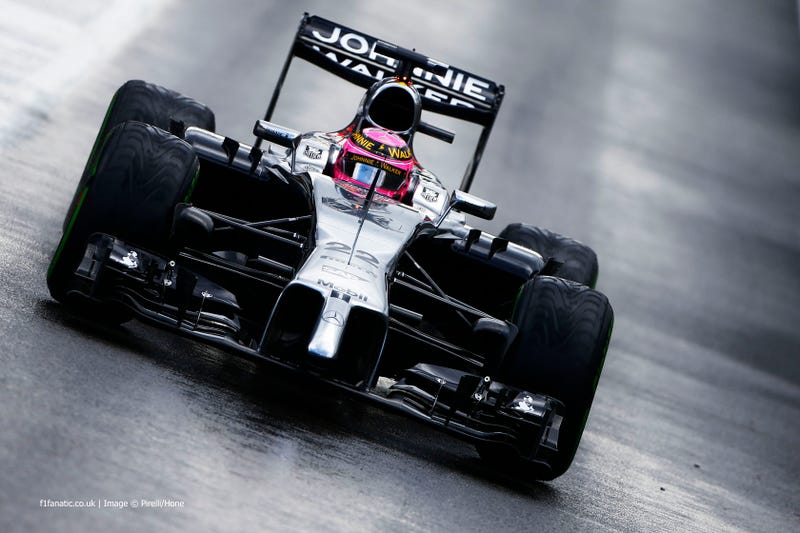 The paddock poured themselves into rain-soaked qualifying session at Spa-Francorchamps, displaying acts of valor, bravery, and foolhardy contention in the process. Oh, and Eau Rouge is a real corner again.
On the title front, Lewis again lost out on pole to his German teammate, this time complaining of brake issues from glazing.
Just behind the silver arrows, the fight is closer than ever. I am sure that Daniel Ricciardo could have joined Sebastian Vettel on the 2nd row if it wasn't for his gut-clenching off just before braking into the bus-stop chicane.
A dissatisfying qualifying for the Williams pair who were expected to do quite well here and at Monza in two weeks, possibly down to an absence of a dry-weather set up.
The old dog, Andre Lotterer, handily beat his teammate in the Caterham CT05 by around a whole second, but we kind of all saw that coming...
Who do you see making headlines for tomorrow's race?
Qualifying Results for the Belgian Grand Prix
---
| | | | | | |
| --- | --- | --- | --- | --- | --- |
| Position | Driver | Constructor | Q1 | Q2 | Q3 |
| 1. | Nico Rosberg | Mercedes | 2:07.130 | 2:06.723 | 2:05.591 |
| 2. | Lewis Hamilton | Mercedes | 2:07.280 | 2:06.609 | 2:05.819 |
| 3. | Sebastian Vettel | Red Bull | 2:10.105 | 2:08.868 | 2:07.717 |
| 4. | Fernando Alonso | Ferrari | 2:10.197 | 2:08.450 | 2:07.786 |
| 5. | Daniel Ricciardo | Red Bull | 2:10.089 | 2:08.989 | 2:07.911 |
| 6. | Valtteri Bottas | Williams | 2:09.250 | 2:08.451 | 2:08.049 |
| 7. | Kevin Magnussen | McLaren | 2:11.081 | 2:08.901 | 2:08.679 |
| 8. | Kimi Räikkönen | Ferrari | 2:09.885 | 2:08.646 | 2:08.780 |
| 9. | Felipe Massa | Williams | 2:08.403 | 2:08.833 | 2:09.178 |
| 10. | Jenson Button | McLaren | 2:10.529 | 2:09.272 | 2:09.776 |
| 11. | Daniil Kvyat | Toro Rosso | 2:10.445 | 2:09.377 | - |
| 12. | Jean-Eric Vergne | Toro Rosso | 2:09.811 | 2:09.805 | - |
| 13. | Sergio Perez | Force India | 2:10.666 | 2:10.084 | - |
| 14. | Adrian Sutil | Sauber | 2:11.051 | 2:10.238 | - |
| 15. | Romain Grosjean | Lotus | 2:10.898 | 2:11.087 | - |
| 16. | Jules Bianchi | Marussia | 2:11.051 | 2:12.470 | - |
| 17. | Pastor Maldonado | Lotus | 2:11.261 | - | - |
| 18. | Nico Hulkenberg | Force India | 2:11.267 | - | - |
| 19. | Max Chilton | Marussia | 2:12.566 | - | - |
| 20. | Esteban Gutierrez | Sauber | 2:13.414 | - | - |
| 21. | Andre Lotterer | Caterham | 2:13.469 | - | - |
| 22. | Marcus Ericsson | Caterham | 2:14.438 | - | - |
---
Formula 1 | images via F1 Fanatic