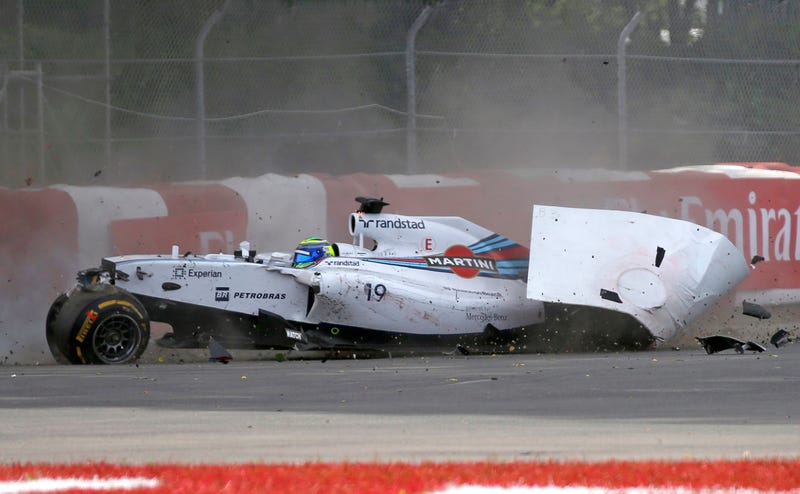 Felipe Massa and Sergio Perez decided to have a nice little post collision social media fight which is just as dignifying as two girls in tight bikinis wrestling in a pool of mud because that's what some strange people call attractive. Anyway, here we go.
Massa and Perez came just a tiny bit too close yesterday in the last lap of the epic Canadian GP, and the result was a crash at speeds over 300kp/h and impacts of 27g (Massa) and 32g. Luckily and thanks to an excellent showcase of F1 safety, nothing happened and they both walked away. I don't want to imagine how that would have ended in the 80s.
As always in F1, as soon as there's contact, the stewards investigate. And their decision was to award the penalty to Sergio Perez who will drop 5 places in starting order for the GP of Austria.
And that's when it all started. Massa still wasn't happy at all about what happened as it could have cost him a podium finish, and so he retweeted his opinion, showing the drive to the left by Perez.
Force India replied by showing a picture right before the impact, which shows Massa's steering wheel tilted to the right, "aiming" at Perez.
And then they went on to clear out the Williams statement that they should have given up the race when Perez' Force India suffered from brake problems allegedly:
Isn't it wonderful? Too bad there's a two week delay before Spielberg.
I personally am taking the Force India side in this argument. There's a helicopter shot of what happened and it's clear that Massa turns to the right. I don't know why, but it caused the collision.